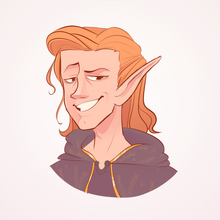 Varne Egbert Stormleaf is the self-declared (and often repeated) Greatest Wizard in All of Existence and in Every Plane. His ongoing goal is to prove to everyone that it is he, quite simply, The Best.
Varne purports to be a wizard, winning several TAG tournaments, but is later revealed to be a Warlock, patroned to Lilith, a little girl demon.
He is, arguably, the Hey Boy of Have Spellbook, Will Travel.
Varne is voiced by the show's creator, co-producer and co-writer, Rudy Basso.
He is one of the Main Characters.
Ad blocker interference detected!
Wikia is a free-to-use site that makes money from advertising. We have a modified experience for viewers using ad blockers

Wikia is not accessible if you've made further modifications. Remove the custom ad blocker rule(s) and the page will load as expected.